WEST QUODDY GIFTS, really is the easternmost Gift Shop in the United States, and is located at the 45th Parallel, mid-way between the North Pole and Equator. Our shop greets you at the entrance of Quoddy Head State Park, which is also home to West Quoddy Head Light, the famous candy-striped lighthouse which has the distinction of being located on the easternmost point of land in the United States. Are you beginning to sense a theme here?
Inspired by the unique and rustic beauty of the park and lighthouse, we specialize in West Quoddy Head Light memorabilia, including many of our own exclusive designs on t-shirts and sweatshirts.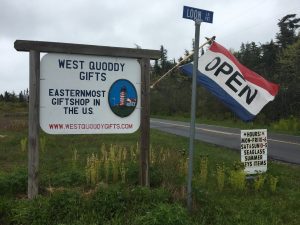 Our designs are our own and you will not find them anywhere in your travels up and down the coast of Maine. Beginning with a tiny little 240 foot shop in June of 1990 we have been growing steadily. In July of 1997 we had to increase our square footage by 480 square feet and now we are busting at the seams again.
Our passion for lighthouses and the Downeast way of life is evident in our line of select food, gifts and clothing. In addition to our own line of merchan
dise, we have over twenty- five fine crafts people and artisans who sell their items in our shop on consignment. This enables our little family business to offer our customers the unique "Maine Made", one of a kind items we have become famous for in the last nine years. Steve has developed some truly wonderful handcrafted items which are now available such as pictorial clocks, framed prints, specialty furniture, and his own 'one-of-a kind' ice scraper.
Wrapped in fog for as many as 60 days out of the year, our small white building is open year round and the "shop of choice" for local sea farmers and their families and the visiting "out-a-staters" who have made the annual pilgrimage since we opened our doors.
We feel as if our best "product" is service. Whether you have the privilege of spending time in our shop or need to order "yesterday" on the Internet, convenience and service are what we provide. We offer customer-friendly service, honest value, express shipping, 100% satisfaction in every way and free gift-wrapping upon request. As always, we stand behind all of our products.
Welcome to our website and we also welcome your comments and suggestions. Please visit our site registry and let us know what you think. Hope to see you visiting our shop in the near future. We are located in the "most beautiful place in the world"..where the sun first casts its rays on the United States… Lubec, Maine.
Sincerely,


Steve and Junia Lehman
We are not very hard to find.
From US 1.. turn East to Lubec on Highway 189. At the.. South Lubec Road ..you will see a sign for West Quoddy Head State Park ..Turn right here and follow the signs.
Approximately one mile from the entrance to the Park, you will see our sign on the left.